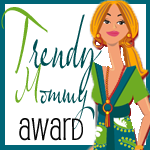 Thanks to Jen at
The Trendy Mommy
for featuring my blog! The Trendy Mommy is a source of information for moms and moms-to-be on everything from great products to decorating inspiration and party planning tips to weekend guides. Visit thier blog to see all sorts of great ideas and superb finds!
Other Site Recognitions:
Thanks to Alex at
Neatorama
Thanks to Michelle at
Kidhaus
Thanks to Katie at
WeHeartBooks
Thanks to Emily at
Slashfood
Thanks to Tamara at
DecaturMom
Thanks to Sam & Bellie at
Sam & Bellie
Thanks to Kaori at
Koala Brains
And thanks to the countless other people that have posted about the blog or that have sent e-mails that make me smile!